A few years ago, I participated in a project called "Learning to Love You More"
Excerpt from the website:
Learning to Love You More was both a web site and series of non-web presentations comprised of work made by the general public in response to assignments given by artists Miranda July (Director of Me, You and Everyone We Know) and Harrell Fletcher. Yuri Ono designed and managed the web site.

Participants accepted an assignment, completed it by following the simple but specific instructions, sent in the required report (photograph, text, video, etc), and their work got posted on-line. Like a recipe, meditation practice, or familiar song, the prescriptive nature of these assignments was intended to guide people towards their own experience.

Since Learning To Love You More was also an ever-changing series of exhibitions, screenings and radio broadcasts presented all over the world, participant's documentation was also their submission for possible inclusion in one of these presentations. Presentations have taken place at venues that include The Whitney Museum in NYC, Rhodes College in Memphis, TN, Aurora Picture Show in Houston, TX, The Seattle Art Museum in Seattle, WA, the Wattis Institute in San Francisco CA, among others.

From 2002 to its close in 2009, over 8000 people participated in the project.
The project I was involved with was a simple and anonymous undertaking. It was a photography project to take a flash photo of underneath your bed. The instructions are as follows.
"Don't vacuum or alter anything under your bed beforehand. Take a photo under there with a strong flash, preferably with the camera sitting on the ground. Make sure your photograph is in focus! We are looking for photos that depict the space between the bottom of the bed and the floor, please do not send us photos if your bed is flush against the floor or if it is a loft bed."
Here was my submission: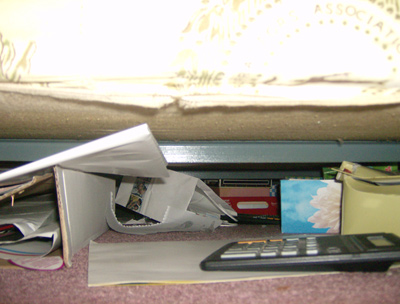 You can veiw the actual currated photo here.
I took a blind photo - I don't even think I looked for composition or focus before I snapped. I just sat on my bed, pulled up the bed skirt, and documented my mess. I was at my parent's house at the time, home for the summer from college, with remnants of things I left home and a box full of all the the photos and posters I had taken down from my walls (which you can see at the left).